26.5 GHz RF Downconverter
Available Q3 2018.
The SC5318A is a C to K band single-stage downconverter, converting frequencies from 6 to 26.5 GHz down to DC to 3 GHz. The LO frequency range is from 6 to 26.5 GHz with an input LO range from 6 to 14 GHz. An internal frequency doubler multiplies the input LO range up to 26.5 GHz. This module also features an internal 26.5 GHz synthesized LO, RF preamplifer, and variable gain control making it a compact standalone downconverter module. With the option for an external LO signal, the SC5318A may be configured for SISO applications or paired together for MIMO applications such as ground-based satellite communications, point-to-point radio, and test instrument systems.

The SC5318A can be combined with SignalCore's SC5308A to form a broadband 100 kHz to 26.5 GHz downconverter. These high-performance converter modules are compact, rugged, and built for simple integration into larger systems.

Full implementation instructions, GUI, driver software, and example code are provided with each module.
Product Brief »
Request a Quote »
| | |
| --- | --- |
| Input RF range | 6 GHz to 26.5 GHz |
| Gain Control | -40 to +35 dB |
| LO Phase Noise | -100 dBc/Hz @ 10 kHz, 10 GHz |
| Input IP3 | +18 dBm |
| Noise Figure | +6 dB @ max gain |
| Product # | Document | Download |
| --- | --- | --- |
| Part # | Product Description |
| --- | --- |
| 7100076-01 | SC5318A, 26.5 GHz RF Downconverter with USB and SPI Interfaces |
| 7100076-02 | SC5318A, 26.5 GHz RF Downconverter with USB and RS232 Interfaces |
Contact Sales »
---
Related Products
PXIe/USB-SPI-RS232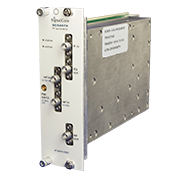 PXIe/USB-SPI-RS232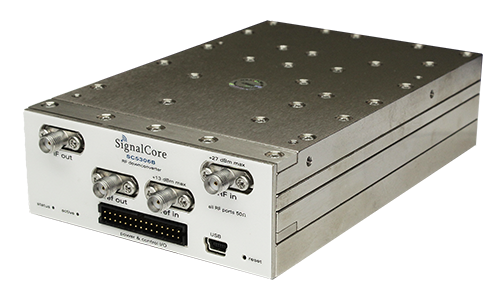 PXIe/USB-SPI-RS232