20 GHz Signal Source
The SC5510A and SC5511A are VCO-based, synthesized signal sources with very low phase noise and an amplitude control of 0.01 dB throughout its -30 dBm to +15 dBm output power range. By utilizing a unique multiple phase-locked loop architecture, phase spurs are kept below -70 dBc across the entire tuning range, even at 1 Hz step resolution. Download the data sheet to see how the impressive features and specifications of these modules make them stand out when compared to other small modular synthesizers.

These 20 GHz signal sources include an additional, independent RF2 channel with a tunable frequency range from 100 MHz to 3 GHz and a tuning resolution of 25 MHz. The extra channel makes the modules suitable for either single-stage RF conversion systems or dual-stage image suppression up/down converter systems. Both modules make great general-purpose laboratory signal sources where demanding low phase noise and signal purity are required. They are both ideal choices as an integrated clock source for fast DAC and ADC applications, especially those that require variable sampling rates.

Full implementation instructions, GUI, driver software, and example code are provided with each module.
Request a Quote »
---
Related Products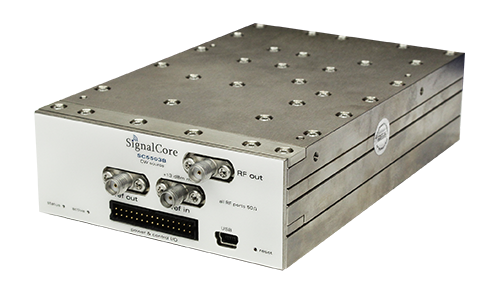 PXIe/USB-SPI-RS232
PXIe/USB-SPI-RS232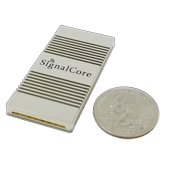 USB-SPI