6 GHz Direct IQ Demodulator
The SC5312A and SC5313A are 300 MHz to 6 GHz direct IQ demodulators, down converting RF directly to analog In-phase and Quadrature IF or IQ baseband. The DC coupled differential IQ pair may be fed to any dual channel digitizer for analog to digital data conversion. The local oscillator (LO) is supplied by an external source (such as the SC5505A and SC5506A respectively) and its replica may be used to drive another direct IQ downconverter for coherent reception. These modules can also be configured together as an RF signal transceiver.

Whether you are building systems for wireless communication testing, software-defined radio, point-to-point radio, multi-channel coherent systems, or other academic/military programs, the SC5312A and SC5313A's high dynamic range, low power consumption, and compact size provide the quality and flexibility you are looking for in your system architecture.

Full implementation instructions, GUI, driver software, and example code are provided with each module.
Request a Quote »
---
Related Products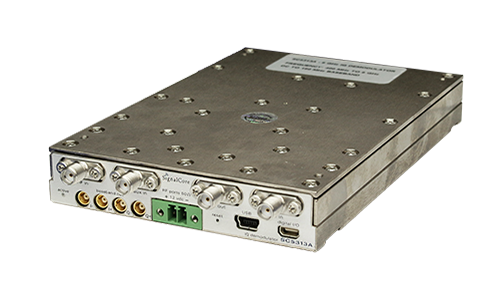 PXIe/USB-SPI-RS232
PXIe/USB-SPI-RS232
PXIe/USB-SPI-RS232